Luton estates armed patrols are 'scaled back'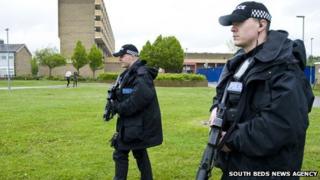 Armed patrols in response to 10 shootings in Luton have been "scaled back", Bedfordshire Police have said.
Four extra armed response units were introduced on the Marsh Farm and Lewsey Farm estates after a recent spate of firearm incidents this year.
A police spokesman said 14 people have been arrested in connection with gun crime.
He added there was still a "high profile police presence" in the area with the situation reviewed daily.
There have been 17 gun-related incidents in the town this year, 10 of which have been shootings.
Ch Supt Mark Turner said: "The armed police patrols that people saw the images of on the TV and in the media have been scaled back.
"We still have a high profile police presence, that is utterly important to make sure reassurance is there, and we review that on a daily basis to make sure we've got it right.
"We will continue to go after the criminals who are hurting Luton."
'Safe event'
Ch Supt Mike Colbourne said he recognised recent events had also caused concerns for people intending to come to this Sunday's Luton International Carnival.
He said it was an opportunity to "tip the balance back to what we are proud of as a town".
"All of our security and safety operation is put in place for one reason only, to make sure that people can come out and enjoy it," he said.
Mike McMahon, from joint organisers Luton Borough Council, said it was a "safe event".
"I live in the town and I can absolutely understand [the concern] but this is a family friendly event," he said.
"We have been running it since 1977 and it has been a low crime event and with all the contingency plans from ourselves, with the security firms and Bedfordshire Police, we have all the [safety] measures in place."