St Albans Roman gold coin hoard declared treasure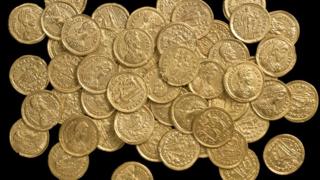 A hoard of Roman gold coins found in Hertfordshire has been confirmed as treasure by the county's coroner.
The stash, found on private land north of St Albans by a metal detectorist, is believed to be one of the largest Roman gold coin hoards discovered in the UK.
The 159 coins date to the end of the 4th Century AD during the final years of Roman rule in Britain.
The decision means the city's Verulamium Museum now has the opportunity to buy them.
The 1996 Treasure Act legally obliges finders of potential treasure items, mostly gold or silver artefacts greater than 300 years old, to report their discovery to the local coroner.
Hertfordshire and Bedfordshire finds liaison officer, Julian Watters, said an inquest is held if a museum is interested in what has been uncovered.
If the coroner determines a find constitutes treasure, that museum then has the right to acquire them and the Department for Culture Media and Sport decides where the money goes.
"[The value of the coins] will be decided by an independent committee at the British Museum and we will have the chance to raise the funds after that," said Mr Watters.
"In most circumstances, there will be a 50/50 split between the finder and the landowner but it is up to the Secretary of State to decide, based on the facts of the case."
'Incredibly important'
These coins, discovered by amateur detectorist Westley Carrington during his first metal detecting outing, were scattered across a fairly wide area.
They were mostly struck in the Italian cities of Milan and Ravenna and issued under the Emperors Gratian, Valentinian, Theodosius, Arcadius and Honorius.
At the time of the find last October, a St Albans Council spokesman said there were "practically no other comparable gold hoards of this period".
Mr Watters, said the find was "incredibly important" but why they were buried had not been established.
"It's like nothing I've seen before in my 10 years in post," he said.
"Unfortunately whatever they had been deposited in had been hit by a plough several times so they were very spread about and it's a bit of a mystery still."