The Point in Milton Keynes puts redevelopment plans on show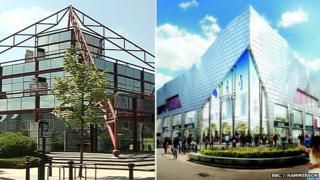 Updated designs for a new retail and leisure complex are to go on show in Milton Keynes after developers' initial plans attracted criticism.
The Point at Milton Keynes was built in the 1980s and last year the team behind Birmingham's Bullring unveiled plans to redevelop it.
After feedback in May, revised plans are being shown at the site on 8 June.
A public consultation has been held and a planning application is expected to be submitted in July.
The scheme has faced opposition and campaigners looked to get The Point listed, but their bid was rejected.
A spokesman for developers Hammerson said the new plans showed a more "leisure-focussed" facility, but he said it was not yet decided whether a new cinema would be included.
The Point was the site of the UK's first multiplex cinema.
'Still a box'
The original pyramid-shaped building is due to be demolished, but developers' plans to rebuild it in a similar style have been criticised.
Linda Inoki, the chair of Explain, which campaigns for better architecture in central Milton Keynes, said she was "rather underwhelmed" by the proposed design and said it looked "like an explosion in a triangle factory".
"It's really good that Hammerson have come back and taken a fresh look at their original ideas, but I think they're heading down the wrong tack here. What they've come back with here is still a box," she added.
Hammerson said 73% of people it had consulted so far were in favour of regenerating the site.
A planning application for The Point is expected to be submitted in July.