Kempston murder inquiry: Bluetooth used in search for killer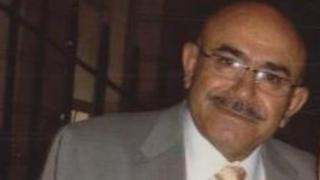 Police will send a bluetooth message to mobile phones in Kempston, a month after a man was stabbed to death in his home.
Serafettin Demirsay, 65, was killed in Vineyard Way on 14 May after three men forced their way in.
Bedfordshire Police are using the system to send messages to residents' mobile phones asking for information.
Officers said they believe it was a targeted attack but are keeping an open mind as to the motive.
Turkish-born Mr Demirsay, known locally as Sharif, was stabbed to death after answering a knock at the door.
His 68-year-old partner, who had lived with him for more than 20 years, tried to stop the attack before being hurt herself.
She was threatened and stabbed in the arm.
The offenders stole about £1,000 and jewellery of sentimental value.
'Relentless pursuit'
The Bedfordshire Police social media campaign also includes targeted Facebook information and a Twitter feed which can be accessed using the hashtag algeria.
Det Insp Dan Pawson said: "The whole purpose of this is to remind the public that we are still dedicated to this inquiry and we will relentlessly pursue those involved but we still need information.
"Hopefully [the alerts] will jog their memories and encourage them to come forward."
A man, 24, arrested on suspicion of murder the day after the attack, has been released on bail.