Ricky Burlton: Mum's 'mission' to find Hoddesdon crash killer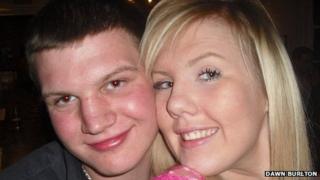 "People often say 'cope' - I don't know if you do. To us it is not three years ago. We relive and re-experience the same emotions as if it was just yesterday."
For Ricky Burlton's mother Dawn, not knowing where her son's killer is has made going about everyday life an almost impossible task.
The 20-year-old mechanic died after he was struck by a car on the slip road of the A10 in Hoddesdon, Hertfordshire, while walking back from a friend's house in the early hours of 4 June, 2010.
After police visited the alleged driver in hospital, he discharged himself - despite having a huge gash around his eye - and has not been seen since.
But now three years on, new information has given detectives what they believe is the suspect's true identity and led them to an area of Albania where he might be hiding.
'Needle in a haystack'
"I cannot tell you how massive that is, and hearing that information on the eve of [the anniversary of Ricky's death] has had a significant impact on us," said Ms Burlton, who lives in Enfield, north London.
"It's been incredibly frustrating. It's like [trying to find] a needle in a haystack. I'd like to think, like [in] the movies, that we should have known this straight away, but it's not like that - we live in the real world."
The suspect, Alexi Shyti, 34, was going by the name of Georgios Tsoulos - a 30-year-old Greek man who was living illegally in Hertford.
Police believe that upon realising his immigration status would be found out, he fled from Chase Farm Hospital in Enfield before formal talks could be held.
By the time officers went to his home in Woodlands Road, Hertford, he had disappeared.
Hertfordshire Police said guarding the suspect's bedside at the time would have been "wholly inappropriate", with them having no reason to believe he would flee due to the severity of his injuries.
At Ricky's inquest the coroner recorded a narrative verdict, saying he had been walking from Hertford to Cheshunt when he was struck by a Rover 200, which was thought to have been travelling at 60mph.
Ms Burlton is now desperate for the final pieces of the puzzle to be filled in, so the family can start to properly grieve.
"I have to find out what happened. It's like my mission now," she said.
Albania investigation
"It's my destiny that I have to get those answers, not only for us as a family and my children, but for Ricky."
Police have begun a manhunt for Mr Shyti around Ngracan, in the Fier region of Albania. Appeals for his capture have been translated into Albanian and his new identity has been broadcast by media in the country.
Ms Burlton said: "My son was selfless. He would do anything for anybody, and yet in his death no-one could be with him.
"I cannot even articulate how that feels as a mother, knowing that he was taken in such a cruel way."
Hertfordshire Police believe people in the UK may still know where Mr Shyti is. He has connections in Hertfordshire, north London and Leicestershire.
Det Ch Insp Sharn Basra said the family "have shown true strength in what has been an extremely difficult time".