Tokko £4.75m youth centre unveiled in Luton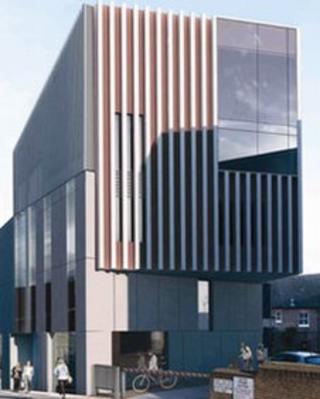 A multimillion-pound youth centre in Bedfordshire has been unveiled ahead of its official launch.
The £4.75m Tokko centre in Luton has a 7m (23ft) climbing wall, dance studio, IT suite, training and counselling rooms, roof terrace and cafe.
The four-storey building, designed with the help of young people, will open to 14 to 19-year-olds on 1 July.
Council leader Hazel Simmons said young people "needed somewhere to go, to be safe, to talk and be heard".
A group of 20 youngsters now sit on a board at the youth centre and have to carry out specific jobs on the premises.
"They [young people] asked to be part of decisions that affected them, to play a part in reaching their potential and to be a bigger part of our community," said Ms Simmons.
Youth workers will be based at the centre to give advice and counselling to young people who are not going to school or college or working.
The project received the largest grant out of 63 made nationwide through the government's Myplace scheme, set up in 2008 to fund new youth facilities.