Westlands 'sleeping carers': One cleared the other faces retrial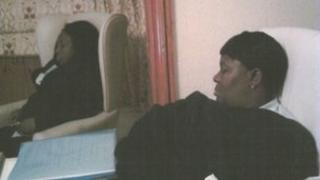 A nightshift worker snapped "sleeping on duty" at a Buckinghamshire care home has been cleared of neglect but her colleague faces a retrial.
At Amersham Crown Court, Titilayo Ajala, 56, and Henretta Offae, 41, both denied 19 charges relating to Westlands home, in Olney.
Ms Ajala, of Penryn Avenue, Fishermead, Milton Keynes, was found not guilty.
The jury could not reach a verdict on Ms Offae, of St Chad's Road, Derby, and she is due to be re-tried.
Both women had been resting their eyes when the photograph was taken, they told the court.