Barton-Le-Clay Gypsy site protesters sign petition in thousands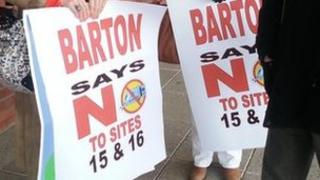 Protesters against plans for a new Gypsy and traveller site in Bedfordshire say they have collected 3,000 signatures supporting them.
They submitted their concerns about a new site at Faldo Road, west of Barton-Le-Clay, to Central Bedfordshire Council, as part of a consultation.
The council said it must find almost 70 new traveller pitches within 10 years.
Protesters said the plan for Barton is "flawed".
'Major concerns'
In April, councillors approved a shortlist of proposed sites as it had "statutory obligation" to provide the extra pitches in order to satisfy government requirements.
Also included on the list are pitches at three existing sites in the county at Tingrith and Caddington and new sites at Biggleswade, Potton and Stotfold.
A public consultation ended earlier.
Barton residents are concerned because the plans include new pitches at the Pulloxhill site, within half a mile of the planned Faldo Road site, which already relies on village amenities.
Amongst the Barton protesters' "major concerns" is the new site will put extra pressure on village services.
'Contradicts guidelines'
They also claim it is an "inappropriate development" for the green belt.
Richard Beechener, from Faldo Farm in Barton, said: "There are all sorts of issues why that site doesn't make sense, it contradicts all the guidelines the council has when considering sites for Gypises and travellers, yet it is still on the list."
The council said the secretary of state for local government and communities will now appoint an independent planning inspector to consider the public's views.
The campaigners submitted their objection presentation to the council offices, which refers to the 3,000 signature petition, but Mr Beechener said they have decided to keep the signatures and hand them to the inspector at "a more appropriate time".
"We got nervous of handing it over as there was some confusion as to whether the inspector would allow it," he said.
A final decision by Secretary of State Eric Pickles will be made next year.