Brazil flight by father and children starts investigation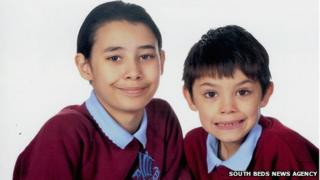 A father has taken his two children from Hertfordshire and is believed to have fled with them to Brazil.
Carlos Feliciano, who has separated from his wife and the mother of the children, was last seen at their home in Tudor Walk, Watford on 28 June.
He caught a flight to Sao Paulo with the children named by police as Annabel Gislon Feliciano, 10, and Domenico Gislon Feliciano, eight.
Police have started an investigation by contacting international colleagues.
'No immediate harm'
They are also appealing to the public for information about the man.
Det Insp Marcus Bromley said: "Although we do not believe there is any immediate harm to the children, they have been taken out of the country without the consent of their biological mother to another part of the world.
"We are currently working closely with Interpol, the Serious Organised Crime Agency and other agencies in Brazil to locate them.
"But I am appealing to people in the Watford area who may have known them to come forward, as we are trying to identify where in Brazil the children may have been taken to.
"Your call will be treated with the strictest confidence and will hopefully assist us in ensuring their safe return to the UK."