Samuel Lucas school 'park and stride' scheme criticised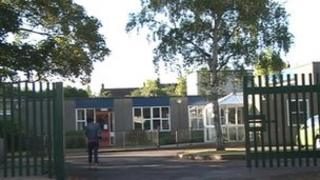 A "park and stride" scheme offering free spaces to parents taking children to school in a Hertfordshire town is "unfair", campaigners have claimed.
The hour's free parking at a multi-storey car park in Hitchin was a condition linked to plans to increase capacity at Samuel Lucas school.
North Herts District Council said it would help ease traffic congestion.
Residents opposed to the expansion said parents taking their children to the school should "pay like anybody else".
Hertfordshire County Council approved plans for a two-storey, 10 classroom extension at the school's Gaping Lane site.
'Positive step'
In an offer linked to the plan, parents will be able to park on the top floor of the council-owned Laraige multi-storey car park for free on Monday to Friday during term-time, between the hours of 08:30 and 09:30 and 14:45 and 15:45.
The usual cost would be £1.00 per hour.
Robin Dartington, a spokesman for residents in the area, said it was "unfair" for council taxpayers to subside parents.
"Where's the fairness in that? Why give the benefit to one particular school? What about permits for people visiting other schools, or the museum, or churches?" he said.
"If parents want to park there and walk to the school, then they should pay like anybody else."
North Hertfordshire District Council said it could issue up to 50 one hour parking permits for parents as the car park had "spare capacity at these times".
"We see this as a positive step to help ease traffic congestion and improve safety at the school gates," said councillor Tom Brindley.
"We do not believe there is any cost to the council as these parents would be very unlikely to park without the permit."
A Hertfordshire County Council spokeswoman said "park and stride" schemes were used across the county.