Call for Wolverton station overspend inquiry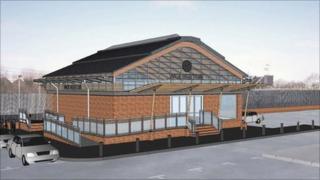 An inquiry has been called for into whether a £1m overspend on a Milton Keynes train station was a result of "undue pressure" on council officers.
Wolverton station cost £3.2m to revamp instead of the estimated £2.17m budget forecast in April 2011.
A former council officer alleged employees were under pressure to complete the project quickly.
Labour Wolverton councillor Peter Marland said: "We need an investigation to see if this claim is valid."
The Wolverton station redevelopment included demolishing the temporary ticket office and replacing it with a red brick station building and improving the car park.
'Impact on resources'
Work on the Milton Keynes council project started June 2011 and was expected to be completed in spring 2012, but was officially opened at the end of that year.
A joint Internal Audit and Highways and Transportation report in March called it "a blighted project from its very inception".
The former council official claimed, in documents seen by the BBC, that staff were put under pressure to get the work completed quickly "against the better judgement of officers".
Another said the demands "had an impact on resources available" and contributed to the rise in costs.
Both employees have since left the council.
Mr Marland said: "It's entirely right to ask what's happening and why isn't the project being done, but completely inappropriate to say 'get this project done'.
'Limit the damage'
"We need an inquiry external to the council to pick up whether it was undue pressure or whether it was correct pressure."
Council leader Andrew Geary, whose Conservative group took over from Liberal Democrat administration in 2011, said he was "not entirely sure" what an inquiry would achieve.
"All current staff can do is try and limit the damage and that is exactly what has been done," he said.
"There's probably not a lot more we can learn - if it can be proved to me there is, then I am very happy to listen to the argument and consider [an inquiry]."