Dangling red kite rescued by tree surgeon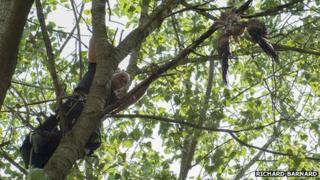 A rare bird of prey, which got stuck 70ft up a tree, has been rescued by a tree surgeon, the RSPCA said.
The red kite was dangling by a leg from a branch in Watton-at-Stone, Hertfordshire, trapped by material gathered for its nest, it said.
When the fire service could not reach it, a tree surgeon had to scale the tree and cut the branch.
he bird was taken to Bedfordshire Wildlife Rescue in Houghton Regis for treatment.
The RSPCA said the Hertfordshire Fire Service discovered ground by the tree was too unstable to use its aerial platform, so one of its officers started phoning tree surgeons.
Simon Pridmore, from Hitchin, climbed the tree, cut the branch, and lowered both bird and branch down.
The RSPCA said the bird was "weak and exhausted" and had a swollen leg.
Officer, Kate Wright, explained how just before egg laying, red kites decorate their nests with materials including rags.
"It may be that the youngster got entangled in one of these rags," she said.
"The bird is fine and local bird watchers tell us that it only fledged a week or two ago - the adults from the nest were circling overhead during the rescue and we hope to get the youngster back to them as soon as possible."