'Suspicious' fire at Thornborough's Lone Tree pub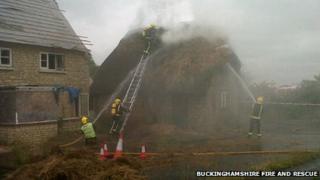 A blaze that caused the partial collapse of a thatched roof next to a Buckinghamshire pub is being treated as suspicious, firefighters say.
The outbuilding blaze, near the Lone Tree pub, in Thornborough, was tackled by 40 firefighters and began at about 14:30 BST on Wednesday.
Buckinghamshire Fire Service said the thatch had to be removed and some crews remained at the scene until 22:15 BST.
The pub has been closed since the main building was damaged in a fire in 2007.