Meppershall Care Home ordered to close by Friday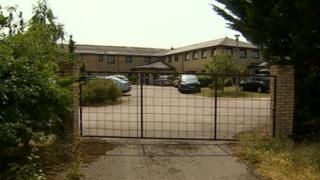 A Bedfordshire care home is to close by Friday, following a damning inspection report by the Care Quality Commission (CQC).
Meppershall Care Home, near Shefford, closed to new admissions on 1 July because of the CQC's concerns over care standards.
However, its right to operate was removed by the commission on Sunday and up to 70 residents must be moved.
Central Bedfordshire Council said improvements had "just not been made".
The CQC carried out an unannounced inspection of the home in May and found 11 breaches of care and welfare.
Inspectors identified concerns over the safety of the 70 residents, many of whom have dementia.
They also found a shortage of experienced and qualified staff on duty.
The commission said the home's standards fell well below what residents deserved and the law required and urgent action was needed.
Acting on those concerns, Central Bedfordshire Council closed the home to new admissions from 1 July.
At the time, the home's owners GA Projects Ltd said a new manager had been appointed and it was making improvements.
'Poor care'
On Friday, it was decided to move 14 residents from its Lavender House dementia unit to other local care homes.
But the council said the CQC served another urgent notice on the home's owner on Sunday afternoon, which required the whole home to close by Friday 19 July.
Julie Ogley, director of adult social care, health and housing at Central Bedfordshire Council, said the home had "deteriorated from 1 July".
"Improvements that were asked to be made to standards of care were just not made and then over the weekend the situation deteriorated in that the home's manager left," she said.
"The new management did not transpire, the standard of care being delivered was poor, especially in the very hot conditions that we have had.
"We will now start looking across Bedfordshire and Hertfordshire and talking to relatives and the residents themselves about where they would prefer to live."
The Care Quality Commission has yet to comment but has previously said any action it took was "open to appeal".
GA Properties Ltd has declined to comment.