Harvard University, Massachusetts, sues Havard, Milton Keynes, in name row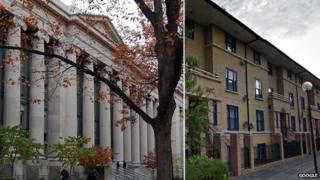 A prestigious American university is suing a business school in Milton Keynes over an alleged trademark infringement.
Harvard University is seeking an injunction and damages against the Havard School of Management and Technology.
At the High Court, the US university claimed there was "evidence of confusion" between the two.
Havard, which describes itself as "the seat of wisdom", denies the allegation.
The American university, which is based in Massachusetts, was this year ranked the world's number two university.
It counts eight US presidents, including Barack Obama, amongst its alumni.
Ashton Chantrielle, for Harvard, said the university's claim was for "infringement of Harvard University's UK and Community trademarks for the word Harvard".
Havard School, in Ascot House, North Third Street, says it offers courses in business, computing, management, accountancy and travel, tourism and hospitality, mainly for overseas students.
It was not represented at the preliminary hearing but the court heard it had issued a counter-claim.
Mr Justice Roth said a full hearing for the case would be heard next February.
He said one of the main issues to be decided would be "whether Harvard has suffered any loss or damage" from the activities of Havard School.