Letchworth Garden City inspires Chengdu suburb in China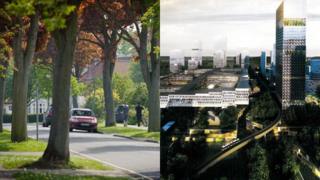 Developers of a new suburb for two million people in a Chinese metropolis have turned to a Hertfordshire garden city for inspiration.
Letchworth Garden City Heritage Foundation is working with planners at Chengdu in Central China.
Leafy Edwardian-style avenues will be the foundation of a suburb dominated by 30-storey skyscrapers and a treetop-high monorail system.
Experts from Letchworth and China will collaborate to develop a master plan.
David Ames, head of Letchworth's strategic planning and heritage, visited China earlier this year to advise officials, academics and developers producing a blueprint.
A delegation from Chengdu plan a return trip to discuss further detail and to work on a low-carbon environment for the new garden suburb residents.
Dr Professor Boa Feng Di, a specialist in development of low-carbon communities at Sichuan University, helped bring Hertfordshire to the notice of the Chinese.
Green belt limit
He has taken the master plan for Letchworth Garden City and shown how it can be adapted to cities of up to 14 million people.
Letchworth Garden City was designed as a self-contained, sustainable community with proportionate areas for homes and recreation.
Industrial areas were set aside and all parts of the city were zoned to avoid pollution.
The city is surrounded by a green belt of agricultural land for growing food.
A spokesperson for Letchworth said: "Although direct comparisons are difficult, there are opportunities for clear synergies, in that a carefully applied approach can reduce carbon dioxide emissions.
"For example, an integrated approach to transport, green infrastructure, housing, leisure and employment from the outset can substantially reduce the need for cars.
"The concept of the town feeding itself is of relevance and the utilisation of green belt to prevent unprotected sprawl can lead to a more positive legacy and better places."
Chengdu planners are applying the established garden city principles in the main development area of Chengdu Dongcun.
Features to be included are shared open spaces, mixed use development and links with public transport.