Blockbuster refunds megaphone protest man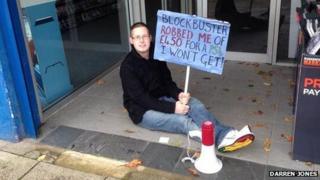 A disgruntled customer staged a protest using a megaphone outside a Blockbuster store after being told he would not receive a £450 games console.
Adam Sibley, 31, ordered the product from the Dunstable store in June and paid for it last week.
The chain went into administration on Tuesday and the store offered him DVDs instead of a refund.
He protested outside at 09:00 GMT and the firm, which said refunds were always on offer, returned his money.
Mr Sibley had said he would "do what it takes" to get his money back and stood outside the store with a placard saying: "Blockbuster robbed me of £450 for a Play Station 4 that I will not get".
'Great result'
He also advised people through his megaphone not to go inside.
"The store opened at 09:30 GMT and a refund was put straight through," he said.
"It's a great result. I was the first customer in the store and my refund was the first transaction so I am very happy with that."
The company's owners, Gordon Brothers Europe, confirmed on 29 October the DVD and games rental chain had gone into administration for a second time.
It first collapsed in January and was sold in March.
Retail manager, Mr Sibley, who paid a £20 deposit to the West Street shop for a new Play Station 4 in the summer, said the store had first offered him goods to the same value instead of a refund.
"Who in their right mind is going to spend £450 on blu-rays and CDs a month before Christmas, it's unreasonable for them to expect me to do that when I was expecting a console," he said.
Blockbuster said local stores were not authorised to issue cash refunds and the DVDs were offered as an alternative to writing to the main office.
A Blockbuster spokesperson said: "We can confirm that Blockbuster Entertainment Ltd will be providing refunds for pre-orders, but local stores will be unable to fulfil such claims."