Ram-raiders steal cash machine from Clifton post office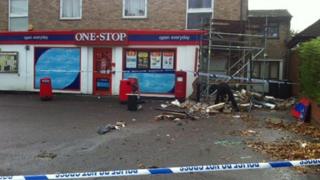 Ram-raiders have stolen the cash machine from a Bedfordshire village post office by smashing through its wall with a forklift.
A stolen digger with a telescopic loader was driven at the wall of the Clifton One Stop shop at about 01:30 GMT on Friday, police said.
It is not known how much cash was taken.
A police spokesman said officers were studying CCTV footage and appealed for witnesses to come forward.
Two cars were also damaged in the attack.
One neighbour, Mandy Burton, said: "There was a loud bang, I thought it was a delivery coming to the shop, I looked out of the side window and saw the digger forcing its way into the shop.
"There were three men .... they fork-lifted it out and threw it into the back of the pick-up and sped off."
Bedfordshire Police said there was nothing to suggest a link with another attempt to steal a cash machine from a One Stop shop in Mawsley, Northamptonshire, in the early hours of Wednesday.