Rickmansworth 'blind rage' driver detained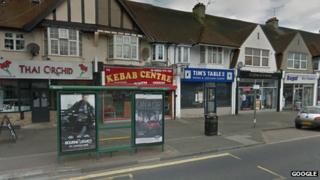 A man in a "blind rage" who drove onto a pavement at a group of men, leaving one of them with a brain injury, has been detained for three years.
Nathan Rutter's car hit Michael Robb, in Rickmansworth, Herts, on 5 May, after a row about his girlfriend.
Rutter was acquitted at St Albans Crown Court of attempted murder and causing GBH with intent.
But the 20-year-old, of Maple Cross, was sentenced after admitting causing injury by dangerous driving.
Rutter, who was 19 at the time of the offence, was also banned from driving for 10 years.
The court had heard he was angry that Mr Robb and three friends, who had travelled from Aberdeen to watch Watford play Leeds, had been staring at his girlfriend.
'Flung into air'
"Fisticuffs" broke out outside a kebab shop in Uxbridge Road, which was broken up by a member of staff, the court heard.
Prosecutor Michael Speak said that as the men walked away, Rutter got into his car, drove up the wrong side of the road and mounted the pavement.
"He was clearly almost blind with rage," he said.
"He jumped in his car and drove up the road at those people at a speed in excess of 30 miles per hour, but less than 40.
"Mr Robb went onto the bonnet of the car. His head hit the windscreen with some considerable force."
Witness Michael Wilson told the court his friend Mr Robb was "flung into the air".
The 27-year-old was knocked unconscious and suffered a fractured skull and bleeding on the brain.
He was in hospital for more than a month and later received therapy to help him walk and improve his slurred speech.
In court, Rutter said: "I just came past to scare them. I didn't mean to hit any of them."
Sentencing Rutter, Judge Marie Catterson said: "This is close to being one of the worst imaginable cases of causing serious injury by dangerous driving."