Solicitor 'defrauded disabled brother and sister'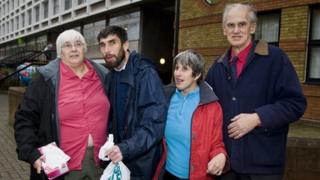 A severely disabled brother and sister were fraudulently persuaded to sign away the rights to their home by a solicitor, a jury has been told.
Ranbir Dhaliwal is accused of spending time with John and Clare Bartlett, neither of whom could write, and obtaining "marks" on legal papers.
St Alban's Crown Court heard this gave away their rights to stay in their home if their parents defaulted on a loan.
Mr Dhaliwal, 45, of Carnoustie Drive, Bedford denies three counts of fraud.
House as security
The solicitor had been recruited by two fraudsters to get the adult children of 70-year-old Clifford Bartlett and his wife Elaine, 63, to sign the documents which waived their right of residence to the family home in Wyton in Huntingdon, Cambridgeshire in 2008.
The two conmen, Gary Carr, 49, from Stotfold in Bedfordshire and Mark Carmichael, 48, from Waltham Abbey in Essex, have already been sentenced for a million-pound photocopier scam, which eventually left the Bartletts bankrupt to the tune of £1.3m.
Before they were caught, they persuaded the couple, who made available manuscripts of ancient and medieval classical music from their home, to take out a further loan.
Prosecutor Michael Speak said a finance company was found who was prepared to make the loan, but wanted the house as security.
The court was told that when the finance company discovered the two grown-up children of the couple lived with them, it was decided they should be asked to sign over their rights to the property in the event of their parents defaulting.
But, said Mr Speak, the company was not told the children, John, 30 and his sister Clare, 33, were "massively physically and mentally handicapped".
'Did his job'
Unaware of the circumstances, the company stipulated that before the loan was made, the children should be given independent legal advice before signing anything.
He said Mr Dhaliwal, who was not part of the photocopier fraud, was brought in and visited the Bartletts.
"Remarkably, when he had finished, he had obtained not their signatures, because neither can write, but their marks at the bottom of these two important documents," said Mr Speak.
"So Dhaliwal did his job - he got them to sign."
The jury was told the solicitor's fee of £2,350 had been paid by Mark Carmichael.
Mr Speak said the solicitor should have arranged for them to be medically assessed by a psychiatrist and a report prepared as to whether they could enter into a "legally binding agreement".
Mr Dhalwali, who is charged with fraud by abuse of position and two charges of fraud by false representation, had told police he acted in good faith when he saw the Bartletts' children and he had done all he could to ensure they understood the process.
The case continues.