Buckingham cafe owner's Waitrose complaint rejected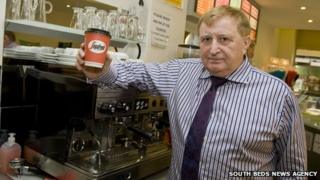 An independent coffee shop owner who claimed a supermarket's free drinks offer was damaging his business has had his complaint rejected.
Garry Sutherland said Waitrose's offer to loyalty card-holders was damaging the Gelateria Gazzeria, in Buckingham.
The Office of Fair Trading said it had investigated but would not be taking any action.
Mr Sutherland had claimed Waitrose was "abusing an already dominant position to restrict trade".
The supermarket's UK customers receive a free hot takeaway drink if they present a myWaitrose Card.
'Continue fight'
It said the promotion allowed it to compete against larger supermarkets.
Mr Sutherland, whose Meadow Lane shop is 20 yards (18m) from the Buckingham supermarket, referred the matter to the OFT in September.
He says he "fully intends to continue this fight".
"If necessary, I will refer the matter to the Competition Tribunal and thereafter the courts, for a judicial decision, and perhaps even the European Courts," he said.
"Waitrose in Buckingham is in a dominant position - they are the only game in town, the main supermarket."
A Waitrose spokesman said: "Instead of the standard loyalty card that typically gives 1% discount, we've chosen to give our loyal customers coffee, newspapers and other offers that are immediate, relevant and appreciated."