Brian Saville leaves Bedford School £6m in will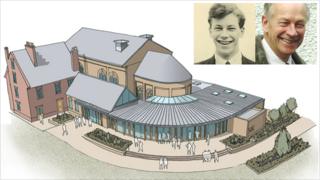 A Bedfordshire school has started work on a theatre after a former pupil left it £6m in his will.
Brian Saville, who went to Bedford School in the 1940s, died aged 83 in August after a long illness.
Part of the "shock" bequest will be used to transform an old church in the town centre into a theatre, for the boys school and local community.
St Luke's was due to be converted next year, but work has got under way this week following the donation.
Head teacher John Moule said: "Brian was a lovely man and a great supporter of us over recent years.
"He often visited and we corresponded regularly.
'First class'
"We had absolutely no idea he was so wealthy and the extent of his legacy came as a complete shock."
Mr Saville, who lived in Spalding, Lincolnshire, was in the grocery wholesale business and a "keen" investor on the Stock Exchange.
Most of the money will be used to fund scholarships for boys whose parents could not otherwise afford fees at the private school for pupils, aged between 7 and 18.
The rest of the bequest will go towards the new £6m theatre, but an exact amount will not be agreed until the school's trustees meet in the new year.
It is hoped the Grade II-listed church in St Peter's Street will open as a theatre in spring 2015.
'Effective communication'
It was bought by the Bedford-based Harpur Trust, which owns the Bedford School and three others, in 2008.
Mr Moule said he hoped the "first class drama facility", which would also have rehearsal and meeting rooms, would become an example of "effective communication between the town and the school."
Mr Saville looked at the theatre's plans before he became ill.
Anthony Ormerod, chairman of the Bedford School Foundation, said: "Little did we know that we would stand to benefit in the way that we have, and it is wonderful to be able to use some of the legacy for both the school and the town."