Kool Runnings takeaway temporarily closed by trench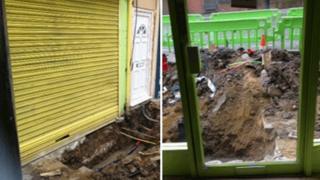 A takeaway is losing around £1,000 a day after a trench blocking access to it was dug without a "word of warning", its owner has said.
Elroy Ray said he had been forced to close Kool Runnings in Desborough Road, High Wycombe, due to the electrical work.
The trough surrounded by piles of mud and debris appeared on Monday, he said.
Southern Electric Power Distribution said it had been unable to warn Mr Ray due to the repairs being "unplanned".
The section outside the takeaway is about 1m (3ft) deep and filled with water, with work spread out across the width of the pavement.
Mr Ray said there was "just a pile of rubble".
"No-one called us to apologise for the inconvenience - they just came, put up the sign and [went] off.
"No word of warning, no letters, nothing.
"I came in Monday morning at five, cooked and when I came to open at 10, that's what I see because I entered through the back."
'Never planned'
Mr Ray said he has not been able to serve food because customers cannot enter his shop and that he had also shut for "hygiene" reasons, due to the mound of dirt directly outside.
"This is a business and this is the busiest time of year for us," he said.
"I'd say I've lost roughly £3,000 over three days."
A Southern Electric Power Distribution spokesman said repairs need to be made to its underground network.
"Unfortunately, its location means safe access to the restaurant is not currently possible," he said.
"We realise this is having an impact on the restaurant's business and we are currently in discussions with the proprietor to reach a satisfactory resolution to the situation."
He said the works were "the result of a power cut which is never planned".
"If we have planned outages, we would send a letter as notification.
"In the event of an unplanned power cut, our engineers attend and resolve the incident as quickly as possible."