Extra Milton Keynes to London train service welcomed by MP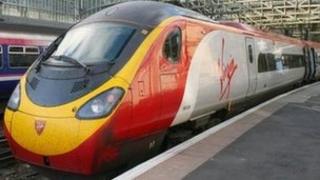 Five new train services between Milton Keynes and London are a "welcome step in the right direction", an MP says.
Iain Stewart, Conservative MP for Milton Keynes South, says the Virgin services will help commuters but more peak time services are needed.
"Anyone commuting to London knows how full peak time trains can be," he said.
Two new northbound services from London and three southbound services, from Manchester and Wolverhampton, are being added to the timetable from 8 December.
Virgin said the trains currently stopped at Milton Keynes, but passengers are only allowed to alight.
'Modest change'
The changes will mean the services are advertised and passengers allowed to board at Milton Keynes.
The additional northbound services will run from London Euston to Manchester Piccadilly, leaving London at 16:20 and arriving at Milton Keynes at 16:50, and from London Euston to Edinburgh, leaving London at 16:43 and reaching Milton Keynes at 17:13.
A southbound service will run from Manchester Piccadilly, leaving at 07:15, to London Euston, stopping at Milton Keynes at 08:46.
Two further routes will be added to the timetable at night, both running from Wolverhampton to London Euston. They will depart at 21:45 and 22:45, stopping at Milton Keynes at 23:05 and 00:03 respectively.
Mr Stewart said: "While I would still like to see more Virgin services available for MK commuters in the morning and evening peaks, this is a welcome step in the right direction."
Andrew Pakes, Labour's parliamentary candidate for Milton Keynes South, said: "While there has been some movement on extra trains, it is a modest change given the peak time demand and public investment in the service."