Shefford boys' home abuse inquiry: Second man quizzed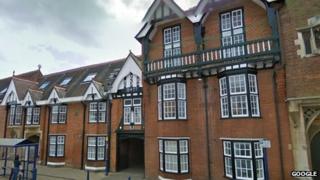 A second man has been interviewed by police investigating alleged abuse connected to the former Shefford St Francis Catholic Boys' Home in Bedfordshire in the 1960s.
The man, 71, understood to be an ex-scoutmaster, voluntarily came in for interview by police at the end of November, but has not been arrested.
He was interviewed in connection with two alleged sexual offences.
A man, 77, from Thetford, Norfolk, has been arrested as part of the inquiry.
He was arrested on suspicion of historical physical and sexual abuse, said police.
He was interviewed and bailed earlier this month as part of an investigation into Shefford St Francis Boys' Home.
Police said the claims relate to four alleged victims.
The 71-year-old man "was connected to the home in the 1960s but was not employed by them directly" said a police spokeswoman.
The home, which was run by the Northampton diocese of the Catholic church, closed in the mid 1970s.
In May, Bedfordshire Police revealed an investigation had started into abuse allegations at the home dating back to the 1950s and 1960s.
The Northampton Diocese of the Catholic Church, which ran the home, has said it "deeply regretted" any hurt caused, but has stressed the "claims are not proven".