Ashwell silences 'sleep disturbing' St Mary's church chimes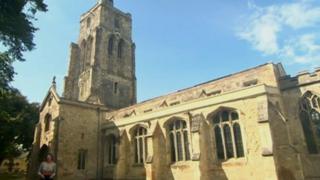 A Hertfordshire village's parish council has agreed to turn off a church's chimes at night to settle a row over sleep disturbance.
Complaints about the bells of St Mary's in Ashwell chiming every 15 minutes were investigated by North Herts District Council (NHDC).
It decided they were "prejudicial to health".
Save the Bells campaigners said the majority of villagers wanted to keep the chimes sounding.
None of the complainants could be reached for comment.
The St Mary's bells, which chime through its clock mechanism, have been ringing since about 1896 but stopped for 18 months while repairs were carried out.
They were fixed in June 2012. Some residents believe the complainants moved to the village when the bells were silent.
'Obliged' to investigate
In August, NHDC said it had received about 12 complaints and was "legally obliged" to investigate the issue.
The council hoped the matter could be resolved within the community, without formal action.
Parish council chairman Peter Long said it took the decision to silence them between 23:00 and 06:00 because "the council would issue a noise abatement notice if we didn't".
"Then we would probably have to appeal and we wanted to avoid wasting public money in a legal procedure," he said.
Mr Long added that while the complainants were outnumbered by those who wanted the chimes to stay, "the majority of villagers aren't bothered".
It has now asked the archdiocese in St Albans if it can install a timing mechanism and has launched an appeal to raise the £1,900 cost.
Welcoming the decision, NHDC said it wanted to "encourage its implementation without delay".
'Forced' decision
Councillor Bernard Lovewell said: "The council is not proposing to take any formal enforcement action at this time, but we are keeping a watching brief on developments."
But Chris Pack, from Save the Bells said the parish council, had been "pressurised" into a decision.
"They say they are pleased there is an agreement but it is not a compromise because [turning the chimes off at night] what was wanted in the first place," he said.
The parish council is now going to carry out a survey in January to "get down on paper" what the views are, he added.
"We are now going to campaign stronger to overturn the parish council's decision because they have just taken the approach forced on them by NHDC," he said.