Prince Charles in 'selfie' photo with boy in Stevenage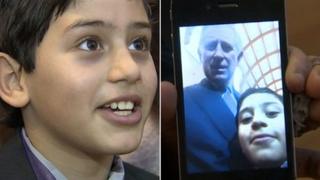 A boy who snapped a "selfie" with Prince Charles said he would "definitely" keep the picture forever.
The prince was visiting the Coptic Orthodox Church Centre in Stevenage on Tuesday when the boy asked if he could take a photograph.
"I didn't wait for the bodyguards to push me out of the way," he said.
Prince Charles was in Hertfordshire hearing concerns about persecution of Christians in parts of the Middle East.
The unnamed boy, a member of the church congregation, said: "[Prince Charles] was coming in the line and then he shook my hand.
"I went up and said if I could take a photograph. It's a very good picture of me close up to him."
The boy said he was "very excited" to have met the prince.
"It's an experience we've never had, close up like that, before. It's amazing to have a photo of a member of the Royal Family."
Prince Charles met with Bishop Angaelos, the leader of Coptic Christians in the UK before hosting a reception for Christian communities in the Middle East at Clarence House.