Barnfield Federation education company: New inquiry launched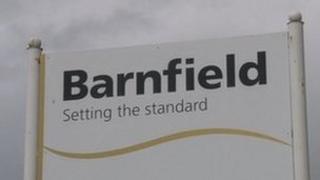 A schools company at the centre of two inquiries is now being investigated by the Further Education Commissioner over its "adequacy of financial controls".
The new inquiry started this week into the Hertfordshire-based Barnfield Federation, minister for skills Matthew Hancock MP has revealed.
He said in a letter Barnfield could be taken over or dissolved if the results of an inquiry go against the firm.
Barnfield Federation said it was fully co-operating with the investigation.
The Barnfield Federation, which runs four academies, a free school and a college in Bedfordshire, said: "The board of governors remain fully committed to building on improvements that are already under way and to make further changes where appropriate."
'Monitoring progress'
In October, the Department for Education (DfE) and the Skills Funding Agency (SFA) confirmed they had started two inquires into allegations of grade massaging and the "operational finances" at Barnfield Federation and Barnfield College, but would not comment further.
The "conversion" of three schools to Barnfield academies has been put on hold during the investigation.
In a letter to Labour Luton South MP Gavin Shuker, Mr Hancock says the FE Commissioner will review the "capacity and capability" of the Barnfield Federation's leadership to bring in "financial control improvements within an acceptable timescale" and look at how its progress can be monitored.
He says the findings of the other investigations will be published "shortly".
Dr David Collins was appointed as the first Further Education Commissioner in November last year. The government said the commissioner was "responsible for driving improvement and acting quickly to tackle failing colleges".
In December, Barnfield founder Sir Peter Birkett, who left the federation in August, resigned from his new job as chief executive of international school operator GEMS.
He said he did not want the Barnfield probe to become an "undue distraction".