Thameslink commuter concern over 50% service cut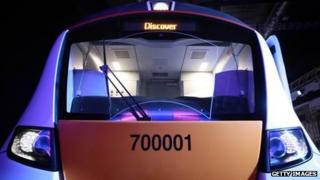 Commuter groups have called for a rethink about a 50% reduction of some Thameslink rail services during three-year engineering works.
From December, two trains per hour will run between Bedford and Brighton, instead of the current four, with the other two terminating in London.
Campaigners want them to run as far as Gatwick Airport in Sussex.
The Department for Transport said train operators were "working together to minimise disruption".
Network Rail is yet to comment.
The timetable change is due to the refurbishment of London Bridge station, part of Thameslink's £6.5bn programme to increase capacity on the line by more than 60% during peak periods.
'Lose passengers'
Work to re-lay track and platforms means trains will not be able to call there until 2017.
Commuter groups say terminating two of the four services at Elephant and Castle, the station after London Bridge, will make journeys difficult for workers and holidaymakers travelling to East Croydon and Gatwick Airport.
Neil Middleton, chairman of the Association of Public Transport Users, said: "Just one cancellation will lead to a one-hour gap in the service, with commuters being very late for work and air travellers missing flights.
"Four trains per hour reassures and meets demand - passengers know there will be another train along soon if there are problems."
Arthur Taylor, chairman of the Bedford Commuters Association, said the decision meant the rail industry would "lose both passengers and revenue".
First Capital Connect, which currently operates trains on the route, said while its franchise ended in September, it was still involved in helping to develop the future timetable.
Spokesman Roger Perkins said: "We understand the concerns and are talking to industry partners about an alternative solution that would allow the next franchisee to maintain this service."