Joseph Kent 'suffered cardiac arrest' after second punch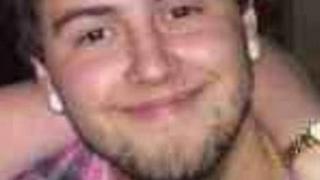 A man fatally punched on a night out in Milton Keynes had probably suffered a cardiac arrest by the time he fell to the ground, a court heard.
Joseph Kent, 24, died two days after sustaining head injuries outside KFC, at Xscape in January last year.
The second of two punches delivered by Samir Bostan was "likely" to have caused his death, a brain injury specialist told Luton Crown Court.
Mr Bostan, 25, of Wolston Meadow, Middleton, denies manslaughter.
Dr Saffa Al-Saraj, a consultant neuro-pathologist with expertise in brain injuries, was asked by prosecutor Iain Wicks to view CCTV footage showing the moment Mr Kent collapsed.
'Swinging punch'
Dr Al-Saraj told the jury it was clear that after the first punch Mr Kent was able to get to his feet and move around.
However, after the second "swinging punch", Mr Kent appeared to be unsteady and needed the support of a woman present.
He said it was "likely" the second punch, which had caused Mr Kent's head and neck to twist, had caused significant damage to his vertebral artery.
This would have resulted in a cardiac arrest and him falling to the ground.
Dr Al-Saraj said in 36 cases he had looked at involving similar injuries, there had been an immediate collapse in 35 of them and all 36 had resulted in death.
At the start of Mr Bostan's trial last week, the court heard Mr Kent had been in Milton Keynes celebrating his wife's 22nd birthday.
He was queuing outside KFC with his wife Emma and friend Andrew Cruzon-Berners in the early hours of 13 January when a fight broke out.
The jury have been told the fight was instigated by Tariq Bostan, with Samir Bostan and Hamza Noor joining in.
Samir Bostan also denies causing actual bodily harm to the victim's brother, Matthew Kent. Hamza Noor, 22, of Ranelagh Road, Wembley, north-west London, denies the same charge in relation to Mr Cruzon-Berners.
Tariq Bostan, 27, of Sarum Road, Luton, has admitted two counts of causing actual bodily harm to Matthew Kent and Mr Cruzon-Berners, and will be sentenced at a later date.
The trial continues.