Driveway sinkhole: Tonnes of concrete fill void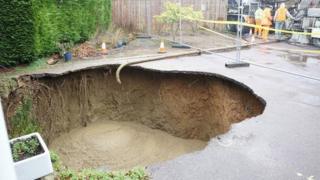 The sinkhole that swallowed a car parked on a drive in Buckinghamshire is being filled in with concrete.
The 30ft (9m) sinkhole swallowed a VW Lupo at a house on Main Road in Walter's Ash, High Wycombe, on Sunday.
Liz Conran, who lives in the house with her husband Phil, said the car belonged to their daughter Zoe and it was lucky nobody was in it.
It is thought the hole was caused by a combination of old chalk mines and heavy rain.
The car was so far down the hole it could not be seen from the house. The car has been left in the hole and about 300 tonnes of concrete has been poured over it.
Mr Conran said: "They've encased the car because they decided it was much more dangerous to pull it out than leave it in."