Hemel Hempstead street hole 'caused by mining'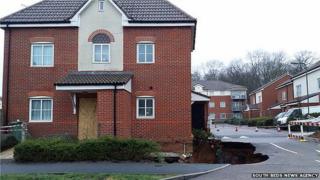 A giant hole that appeared in a Hertfordshire street was probably caused by mining in the area a century ago, an engineering geologist has said.
The hole, about 35ft (9m) wide and 20ft (6m) deep, opened up in Oatridge Gardens, Hemel Hempstead, on Saturday.
Dr Clive Edmonds, who is assessing the area, said the cul-de-sac sits on top of a former brickyard.
He said a slump in the chalk, clay and waste sand under the ground could have been triggered by the recent rainfall.
The hole, which is being filled in with concrete, led to a number of homes being evacuated early on Saturday and 11 are still unsafe to return to.
Many other homes still have no gas or electric.
Police said the hole stretched about 6ft (1.8m) under one house and reached the centre of the road on the other side.
Dr Edmonds, who has studied subsistence for 25 years, said it could take several months to establish an exact cause but he believed it was likely to be a crown hole, which is governed by man-made factors, rather than a sinkhole which is formed naturally.
He said the area was the site of a brickyard during the mid-1800s to the early 1900s, and to make bricks and tiles a mixture of clay and chalk was dug out of the ground.
Waste sand deposits were then placed back into the ground to fill the voids.
"There is a high likelihood that it is mining-related. Fortunately they're pretty rare events - certainly of this scale," said Dr Edmonds.
A spokeswoman for Hightown Praetorian and Churches Housing Association, which owns the homes on Oatridge Gardens, said tests on the ground would take place in the next week, which will then determine what further work is required before residents can move back in.
All people evacuated from their homes have been provided with temporary accommodation, she added.
When the estate was built in 2008, the site was "thoroughly investigated" and "piled foundations were designed by a structural engineer taking into account the geo-technical reports", the association said.