Conman builder John Jenkins flees before guilty verdict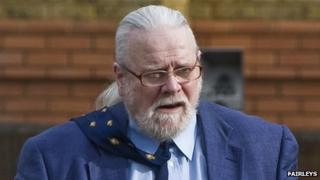 A builder who conned a "vulnerable and lonely" widow out of more than £500,000 has gone on the run and may have fled the UK.
John Jenkins, 70, of Aylesbury, Bucks, failed to attend the last day of his trial at St Albans Crown Court.
Recorder Simon Sterling issued a warrant for his arrest and ruled that the case could continue in his absence.
The jury found Jenkins guilty of fraud by false representation between 1 April 2008 and 31 December 2011.
The court heard that Jenkins befriended Josephine Stubbings, 67, from Berkhamsted, Hertfordshire, described in court as a likeable eccentric with underlying mental health issues.
'A distressed state'
Over that period a total of £532,695 passed from Mrs Stubbings to Jenkins for building work that a surveyor said should have cost £60,000.
After the jury of eight men and four women delivered its verdict, the judge said Jenkins had called his lawyer Andrew Campbell in a distressed state.
His girlfriend sent a text message to Mr Campbell on Monday saying that Jenkins had gone out on Sunday night and had not come back.
A third message sent to Mr Campbell said that Jenkins was out of the country and did not intend to come back.
After the warrant for his arrest was issued, police visited two addresses in Berkhamsted and two in Aylesbury, but there was no sign of him.
During the trial, the court was told Jenkins spent tens of thousands of pounds of the victim's money on holidays to Spain and the United States and on shopping trips.
Prosecutor Michael Speak said: "He relentlessly spent the money. He went on the most extraordinary spending sprees day after day after day."
In his defence Jenkins said he had been "duped" by sub-contractors he had hired to carry out the work.
The judge is due to receive an update on the hunt for Jenkins and may sentence him in his absence.