Watford's St Johns Road closed due to sinkhole fears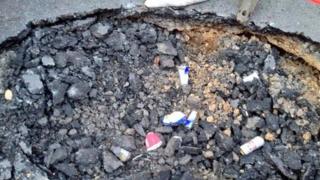 A road is due to be closed in Watford because of fears there is a sinkhole underneath, the council said.
Investigations will take place into what caused "severe cracking" and a "void" in St Johns Road, between Woodford Road and Clarendon Road.
Initial checks suggest a sinkhole could be "deep down, in the underlying chalk", a geotechnical engineer said.
The road will be closed from 09:30 GMT on Tuesday and could be shut for four days.
The two-lane, one-way street will remain open until then but the hole has been cordoned off.
A letter from the council sent to residents over the weekend said localised investigations had already taken place but were stopped due to concern over undermining the road and footpath any further.
Watford county councillor Stephen Giles-Medhurst said contractors now had to excavate a hole from the pavement to the middle of the road.
"It is possible that by exposing the hole and then subsequent back-filling, this will cure the problem," he said.
"If this is the case the road will be closed for up to four days."
Terry Douris, the county councillor in charge of highways, said it was vital the work was carried out "without delay to ensure everyone's safety".
"We will do our very best to keep disruption to a minimum, but we are aware of the impact that these roadworks will inevitably have," he said.