'Rare' paintings in Piccotts End cottage under threat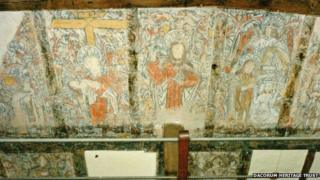 A heritage trust has started an urgent appeal to save a Hertfordshire cottage and its rare 15th Century religious wall paintings for the nation.
Seven panels, thought to have been painted around 1470, are in a Grade I-listed property near Hemel Hempstead.
Dacorum Heritage Trust said it needs to raise £240,000 to buy the property.
Co-owner Karen Murphy said she gave the trust a year to raise the money in 2011 but may now have to sell to someone else and the paintings would be lost.
Ms Murphy believes the pre-Reformation paintings by an unknown artist are treasures that need to be seen more widely where they have been hidden for centuries in the property at Piccotts End.
Scenes include Jesus's baptism, St Catherine of Alexandria, St Peter and St Margaret.
A sheet of coarse hand-woven linen hid the mural until it was discovered in 1953 by the cottage's then owner, Arthur Lindley.
The house has had various private owners since then, some of whom let the public visit by appointment, but this has not happened for about 20 years.
'Need saving'
Ms Murphy, from Hertford, explained that she and business partner Alison Wright bought two adjoining cottages, which house the mural between them, specifically to find a way for the paintings to be brought into public ownership.
"I thought, 'who is going to want to buy it?' - builders wouldn't touch it with a bargepole because they couldn't touch the paintings," said Ms Murphy, who bought the cottage in 2011.
Ms Murphy, whose other projects include a shoe factory in Staffordshire, a coach house in Stoke-on-Trent and a hospital for mentally ill people on Dartmoor, said the trust indicated a few months after the sale that it wanted to buy the property, and she and Ms Wright gave it a year to raise the money.
"We are now two-and-a-half years down the line and we can't afford to just give it to them, which we would love to do," she said.
"At the moment we are funding it and trying to guide its future but we are running out of time.
"The panels should be in the care of the nation - we are committed to finding a way of doing it."
Trust chairman Roger Hands said the colourful panels were "a most unusual find in a secular setting".
He said it had raised "10-20% of the purchase price" from private donations but was appealing for the extra money to buy the cottage and then turn it into a museum and small visitors' centre.
"They are so rare that the paintings must be preserved for both present and future generations, as a sign of those past beliefs and turbulent times," he said.
"We have been pursuing this aim for a number of years and have now launched a public appeal as the only way to preserve them for posterity."
The owner added that if the money couldn't be raised, they would have to apply for a change of use to residential.