Bedford Magistrates Court 'will not close'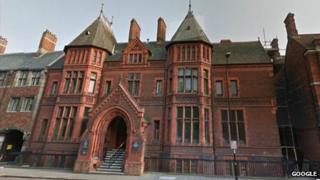 Bedford Magistrates Court will not close, despite plans to move most cases to Luton, the government has said.
Local MP Richard Fuller claims the Justice Issues group's vote to move all but family court services away from Bedford is "closure by the back door".
He called the decision "undemocratic" because closure decisions should be made by ministers.
Justice Minister Shailesh Vara said it was about "allocation of work" but would visit the town.
The Bedfordshire Justice Issues group is a local judiciary committee responsible for deciding where cases are listed.
Under its plan, all criminal and civil cases would be heard in Luton, leaving only 2% of the Bedford court's work in the town.
Mr Fuller said it was "effectively a closure" and such decisions should be made by ministers who were accountable to the public.
'Shuffling paperwork'
Over three quarters of consultation responses from Bedford had been against the plan and yet those responses were "completely disregarded", he said.
"The impact is going to be felt by my constituents but we haven't had a say on whether that should take place," he said.
"This should have been a political decision then we could have stood up for our people and said this is a closure by the back door, you shouldn't do it."
Mr Vara said there were "no plans to close the magistrates court in Bedford".
"It is about listing arrangements, that is the allocation of work, between the various locations in Bedfordshire," he said.
"There has been a consultation, if there were any plans for a closure, the consultation would have said so."
He has, however, agreed to visit Bedford to see the situation for himself in what Mr Fuller said was a "significant move".
"I think he will see this really should be his decision and not pretending it's just shuffling the paperwork," the MP said.