Luton's 'cat pee' smell mystery 'could be solved'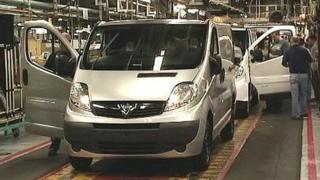 The removal of an additive from a van factory could have eliminated a mystery "cat pee" smell plaguing residents, the Environment Agency said.
Residents had said a smell from the Vauxhall plant in Luton had forced some to shut their windows all-year round.
An agency spokesman said its investigations suggested it had been caused by "an additive in one of the solvents" used.
But Vauxhall said it had proved the smell was not from the plant.
The motor company said it had tried to trace the odour, which was first reported in 2011, by undertaking daily four-mile tours around the plant.
It said it had spent £110,000 and brought in experts from around the world to combat odours.
The Environment Agency, which has carried out at least 23 inspections since receiving the complaints, had served notices on Vauxhall to eradicate the odour.
It said its inquiry had initially looked all over the area but the Vauxhall factory became the focus in summer 2012.
A spokesman said a recent line in the "long and complex investigation" suggested the odour might be caused by an additive in one of the solvents used at the site, which Vauxhall removed in early March.
"We are very hopeful that this action has eliminated the odour as our officers have found no evidence of a smell... in the past three weeks," a statement said.
"The public have also told us there has been a noticeable improvement in air quality since that time."
'Look elsewhere'
But Vauxhall said the removal of the additive was a "small internal change" to something which "could have caused a smell inside - but could not have got outside".
Spokesman Denis Chick said there had been a number of odour issues in the area and the company had "done everything to prove there is not a major source of emission from this factory".
"Nothing has come out of the plant which could cause this smell," he said.
"People should start looking elsewhere and not keep pointing the finger at Vauxhall."
The agency said it would continue to monitor the situation.