Wood-fired generator approved for site of three-month fire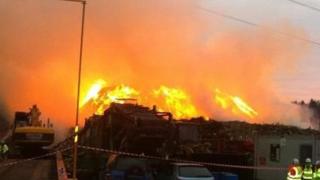 A generator fuelled by wood chips will be allowed to operate on a site where a fire burned for three months, the Environment Agency has said.
The firm which ran the wood recycling facility in Potters Crouch, near St Albans, closed its plant last year.
But plans by Navitas for a biomass boiler on the site meet the agency's "high standards", it said.
St Albans MP Ann Main said "strict oversight" of the planned facility was needed.
The blaze at the Appspond Lane site began on 10 November 2012 and continued until following February.
Navitas Environmental Limited (NEL) got planning permission in 2010 to build the boiler which will generate electricity.
Ms Main said she was "disappointed" an environmental permit to operate the facility had now been granted.
"[During the 2012 fire] there was a loss of power to the Noke Lane water pumps, leaving properties without water supply for several weeks - this is entirely unacceptable," she said.
"I will be making it clear to the Environment Agency that strict oversight and compliance is what needed to protect my constituents and the surrounding area."
'No risk'
The agency held a public consultation and a spokesman said that after a "thorough assessment" it was "satisfied" the facility, as designed, would meet the high standards of the Environmental Permitting Regulations (England & Wales) 2010.
A spokesman said it understood the community may be concerned about another waste facility involving wood but would ensure it was run "properly and safely".
"We are satisfied that if the plant is built as described and operated in accordance with the permit conditions there will be no risk to the environment," a statement read.
The permit includes limits on the amounts of wood that can be stored and processed on site and the agency said it would take "appropriate action" if any conditions were breached.
Navitas has yet to comment.