Bedford and Milton Keynes hospitals 'face £100m debt'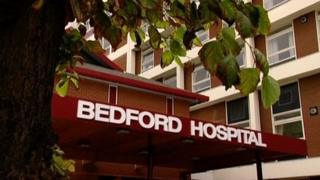 Urgent action is needed to avoid Milton Keynes and Bedford hospital building up a £100m debt, an interim report claims.
Dr Nicola Smith, from the Clinical Commissioning Group, has called for a radical shake up but ruled out merging the two general hospitals.
She wants more community services and collaboration to cut spiralling costs.
Dave Hodgson, mayor of Bedford, called for more resources as the population was growing and more frail older people were putting pressure on the system.
Dr Smith is carrying out a review of health care in Milton Keynes and Bedfordshire which has also highlighted the growing number of frail elderly people putting pressure on the system.
"We need to keep patients out of hospital when it's not needed," she said.
"In the case of frail elderly people there are few alternatives in the community for care so they end up in hospital.
"More preventative care is needed and that means assessing their needs early such as when they go into care homes."
Highlight dangers
The doctor accepted there was low morale among some staff at both Milton Keynes Hospital and at Bedford.
"If staff are not working within their budget that puts them under pressure," she said.
Dr Smith said a merger of Milton Keynes and Bedford hospitals would not reduce costs enough to get rid of the debt and a radical shake-up and more collaboration were needed.
Brian Woodrow, from Bedford Hospital's charity group, said that services like maternity and accident and emergency were time critical so needed to be close to the population.
"In London or Birmingham hospitals are closer together. Here it may be a half an hour journey and that's a long time in an emergency," he said.
He also believes that specialism in hospital is inevitable but it needs to be in services other than those that are time critical.
Dr Smith's aim in issuing an interim report was to highlight the dangers being faced.
The full report is due out in the autumn, she said.