Sharif Demirsay murder: Three teens given life sentences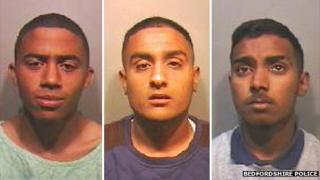 Three teenagers have been given life sentences for murdering a grandfather in a gold and cash raid.
Sharif Demirsay, 65, was stabbed 11 times in his bungalow in Kempston, Bedfordshire, last May. His partner was stabbed and seriously hurt.
Courtney Glynn, 19, of Kempston, was given a minimum sentence of 27 years at Luton Crown Court with Muhammed Rashed, 17, of Bedford, getting a 22-year term.
Hameedur Rahman, 16, of Bedford, will be detained for a minimum of 19 years.
Turkish-born Mr Demirsay, whose real first name was Serafettin, was killed during the three-minute raid in which 22-carat gold bangles, rings, earrings and £1,000 in cash was taken.
The trial heard the three hoodie-wearing teenagers forced their way into Mr Demirsay's Vineyard Way home after he answered a knock at the door on 14 May.
They were armed with knives when they burst in and demanded: "Where's the gold, where's the money?"
Prosecutor Jane Bickerstaff QC said he was stabbed almost immediately.
She added that the intruders appeared to "encourage" each other to attack the grandfather of 12, with shouts of "kill him".
The victims then held him down on the floor, kicking him and then stabbing him 11 times with "two or three knives".
The court heard Mr Demirsay's partner Parshini Salhotra tried to defend him by hitting one of the youths with a vacuum cleaner pipe, before she was stabbed in the arm.
The teenagers then ran from the house while Mr Demirsay lay dying. He died in hospital an hour later.
On Thursday, after the teenagers were convicted, a scuffle broke out on the court concourse between the families.
The sentence of all three includes their conviction for the unlawful wounding of Ms Salhotra and aggravated burglary.
Glynn was also convicted and sentenced for intimidating a witness and possessing an imitation firearm with intent to cause fear of violence.