Luton drive-by shooting: Khadeem Newell was 'hit-man'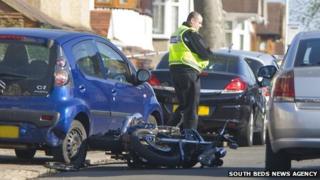 A motorcyclist who fired shots at a BMW car in Luton with four men inside was a hired hit-man, a jury has heard.
Khadeem Newell, 22, of Jasmine Road, has denied the attempted murder of occupants, Sajjid Hussain and Omar Ali, in Fountains Road last May.
He has also pleaded not guilty to two counts of conspiracy to murder. Three other men on trial have denied being involved.
Luton Crown Court has been told the motive was "a mystery".
Rene Lawrence, 24, of Littlefield Road, Mohammed Khan, 29 of St Ethelbert Avenue and Zeeshan Khan, 23 of Connaught Road have pleaded not guilty to two charges of conspiracy to murder.
Both Khans have also denied a charge of assisting an offender.
'Debt dispute'
Amjad Malik QC, prosecuting, claimed Newell was "hired to kill" two men he had no connection with - Mr Hussain and Mr Ali - who were colleagues at a tyre depot but had also been involved in debt collection work.
Mr Malik said the reason could have been a dispute over a debt.
Before the May attack, shots had been fired at Mr Ali's home on 24 April.
Six days later, Mr Hussain was shot in the leg outside Universal Tyres in Tudor Road by a motorbike pillion passenger, alleged to be Mr Newell.
On 5 May, both men were in a black BMW when, shortly before 21:00 BST, Mr Hussain saw a motorcyclist get something from his pocket and shouted "duck, he's got a gun", Mr Malik said.
The prosecutor told the jury a gun was pointed at the rear near side window and a bullet passed through the car and left through the rear off side window.
"Those two passengers would have been hit if they had not ducked down," he said.
"This was an attempt to murder, not just to scare."
Linked DNA
The jury was told the BMW clipped the bike and the rider crashed into a taxi as he turned into Culverhouse Road.
Mr Newell's DNA and fingerprints were linked to a helmet and trainer also left behind.
Bullets used were also the same as one that shot Mr Hussain six days earlier.
Mr Newell has also denied a charge of possessing a firearm with intent to endanger life.
The trial continues.