Shot firefighter Thomas Ossel 'unlawfully killed' in Venezuelan hotel room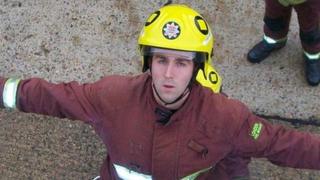 A London firefighter was shot dead in his Venezuelan hotel room as he tried to tackle robbers who had tricked their way in, an inquest has heard.
Thomas Ossel, 28, from Bedford, was shot in the jaw at Playa el Aqua resort on Margarita Island in July 2011.
He was on holiday with his brother Jack, then 21, who was stabbed in the incident.
Coroner Tom Osborne concluded Mr Ossel had been unlawfully killed when at least four gunmen entered the hotel.
"Thomas was quite clearly an innocent victim in this robbery," he said.
Resisted gang
He bled to death "in minutes" from organ failure, internal bleeding and cardiopulmonary laceration caused by a gunshot wound, the Bedfordshire coroner added.
The brothers and their friend, Owen Pearce, then 21, who was unhurt, had been on holiday in South America since 30 June and had been due to return home on 9 August.
Ampthill Coroner's Court heard four gunmen had posed as clients of prostitutes to gain access to the Posade Casa Rosa hotel, on the Caribbean island off the Venezuelan mainland, knowing the owner hired rooms out for a short time.
The pair were attacked as they resisted the gang, who had taken other guests hostage.
Shots were fired from a 9mm pistol and a .357 revolver.
Jack Ossel was stabbed and treated for minor injuries.
Three men have been arrested in connection with the killing and are in custody in Venezuela.