Arlesey residents in poppy tribute to fallen servicemen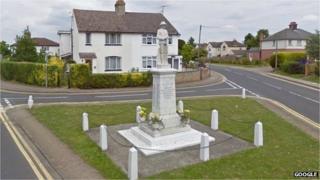 Residents of a town in Bedfordshire have pledged to lay poppy crosses on the graves of all 87 people whose names are written on their war memorial.
The tribute to the town's servicemen who died in conflict is designed to mark the centenary of World War One.
The first crosses have been laid on 11 graves in Arlesey's parish cemetery at St Peter's Church.
Residents will travel to other war graves in Belgium, France, Turkey, Iraq and Israel to lay poppy tributes.
All these were theatres of war during the 1914-18 conflict.
Town pulling together
More than 300 people attended a service at St Peter's Church on 27 April to mark the start of the Arlesey Remembers You project which is being filmed in the town and at the war graves over the next seven months for a documentary.
The opening service included readings and hymns sung by the City Choir of Letchworth, as well as a eulogy from Wing Commander Peter Marshall, from RAF Henlow.
He told the story of two Arlesey soldiers, Frank Fowler and Frederick Bygrave, who both died at Gallipoli in 1915.
Arlesey town councillor Linda Clapham said: "The afternoon was so appropriate and moving that I'm sure our World War One heroes were smiling down on us.
"They even arranged for the weather to be perfect.
"It just proves that a small town, pulling together, can be so effective."
A total of 76 more crosses will be laid between now and Remembrance Sunday in November.