Stoke Mandeville Hospital worker 'rated genitals and breasts'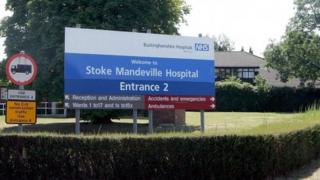 A hospital worker rated patients' bodies as they lay unconscious in theatre, a tribunal has found.
Leo Stamp graded genitals and breasts and made lewd comments at Stoke Mandeville Hospital in Buckinghamshire.
The operating department practitioner, who was dismissed in 2012, also made sexual comments to staff and fell asleep while on shift, the Health and Care Professions Council (HCPC) heard.
An HCPC panel struck off Mr Stamp from the register.
He had worked for the hospital trust for 26 years, with his misconduct spanning from May 2009 to May 2012.
'Better than wife'
The panel heard he made sexual comments about the physical appearance of patients while they were sedated.
He would say what he thought of a woman's breasts and whether he would have sex with a particular patient.
While pregnant women were sedated, he would make "offensive comments" and comment on whether their vaginas looked "good for their age", a colleague told the panel.
He was accused of describing details of his sex life, referring to sex with nurses and making comments to staff including that a colleague's breasts were "even better than my wife's" and "I would really love to have a threesome".
The panel heard he would regularly hug and kiss a female colleague, and had touched another member of staff on the bottom.
He fell asleep several times while on shift in June 2011, the panel was told, and on another occasion went to the toilet during an operation and walked back into theatre saying into his mobile "are you down the pub?".
'Lack of respect'
The panel said it found the majority of Mr Stamp's evidence "inherently implausible" and he had shown no remorse.
"He appeared to have targeted a number of victims including young female operating department practitioners who initially felt unable to report his behaviour due to the fact that they were in the early stages of their career and felt he was highly regarded by his employer," the panel added.
"He has demonstrated not only a propensity to exploit the vulnerability of others for his own sexual gratification without apparent regard to the effect on his victims, but he has also shown his lack of respect for helpless patients under his care.
"The panel found particularly disturbing his behaviour in making coarse remarks about the private parts of anaesthetised patients."