Luton Ofsted inspection halted over homosexuality questions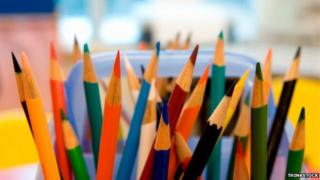 An Ofsted inspection of a Muslim primary school in Luton was abandoned after children were questioned on their attitude to homosexuality.
Pupils at the independent Olive Tree Primary School in Bury Park Road said they felt "bewildered and confused", according to the school.
Parents complained to the school and the inspectors withdrew.
Ofsted said such questions were normal practise and "sufficient evidence was gathered to complete the inspection".
The school said inspectors brought nine children from years five and six together to answer questions about the school.
'Breach of trust'
Farasat Latif, chair of the school trust, said one inspector asked if pupils could "define what is gay" and whether it was ever discussed in the school.
"One boy said he did not want to talk about it and other children were silent but the inspectors persisted," said Mr Latif.
In statements, children said they felt "uncomfortable", "intimidated" and "confused", he added.
""It was a kind of sex education lesson but by untrained inspectors without the consent of parents or the school," he said.
"It was a complete breach of trust .... a safeguarding issue."
'Derogatory language'
About 20 parents attended a planned meeting between inspectors and the school the following morning.
"We were told the questioning was part of a standard to ensure tolerance in a school but wouldn't it be better to ask nine and 10-year-olds about disability or race rather than sexuality?" he said.
An Ofsted spokeswoman confirmed its inspectors withdrew from the second day of the inspection.
"As part of any school inspection, inspectors will ask pupils about the effectiveness of the school's actions to prevent and tackle discriminatory and derogatory language - this includes homophobic and racist language," she added.
"The Independent School Standards, published by the Department for Education, set out that schools have a duty to teach pupils tolerance of different groups within society."