Houghton Chargers Cricket Club face axe over nuisance bikers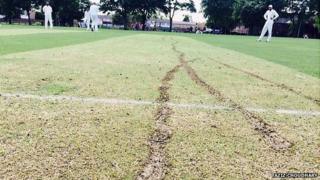 A cricket captain says his club faces being kicked out of the league as they cannot afford to pay police charges to tackle problem bikers during matches.
Teenagers riding motorbikes across the pitch has forced some Houghton Chargers games to be abandoned.
Aziz Choudhary said the town council had previously paid for policing, but the club now faces a £35-an-hour charge per officer as funds have run out.
Bedfordshire Police said resources do not allow for continuous match patrols.
The club's home at Houghton Regis, Bedfordshire, has been plagued by bikers on the village green for more than a season, with the square being carved up mid-game and some teams cancelling their fixtures in advance.
'We're a victim'
Mr Choudhary said a rope fence around the pitch had failed to stop the bikes and the Bedfordshire Invitation Saturday League has told them they could be eliminated if they fail to tackle the issue.
"I don't know what their [police] priorities and resources are, but this is a very important thing in the local community," said Mr Choudhary.
"I don't think it's fair because this is antisocial behaviour, so it's the council and the police's responsibility to take action if such incidents happen. Unfortunately we're a victim of this."
Bedfordshire Police said it does not provide private event security except for large-scale public gatherings, which organisers pay for.
Officers would continue to "keep an eye on games" where resources allow and will always attend emergency incidents, but they do not have the staffing available to attend whole games continuously, the force added.
South West Bedfordshire MP Andrew Selous, Conservative, said he would talk to the police and Central Bedfordshire Council's antisocial behaviour unit about how the problem can be solved.