Luton teen, 16, hurt in sword attack on Marsh Farm estate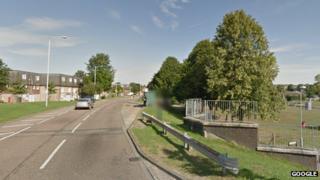 A 16-year-old boy has been attacked with a sword as he walked to the shops with his father in Luton.
Bedfordshire Police said the attack happened with "such force" that the boy needed surgery on his leg and remains in hospital.
The pair were on Wauluds Bank Drive on the Marsh Farm estate on Friday night when they were approached by up to eight young men, police said.
They asked the boy's name and stabbed his leg when he replied.
'Cowardly and unprovoked'
Details of the attack have only just been released by officers, who described his injuries as "significant".
Det Con Gary Hales said: "This was an appalling cowardly and unprovoked attack on a defenceless 16-year-old who had gone out with his dad to the shops.
"The people who did this are violent and aggressive and need to be identified for the protection of the local community."
The group is described as a mixture of black and mixed race males wearing dark clothing. All had their faces covered.
They approached from the direction of the underpass and left the scene in the direction of Waleys Close.