Billy Carter, 14, died after appendicitis not recognised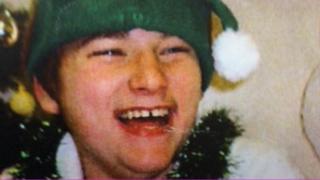 A 14-year-old boy with learning difficulties died from appendicitis after it was not picked up by an out of hours service, an inquest has heard.
Billy Carter, from Sandy in Bedfordshire, had been diagnosed with a urinary infection.
Ampthill Coroners Court was told his disability and high pain threshold led to appendicitis not being recognised.
The coroner raised concerns over whether it had been appropriate for him to be seen by the out of hours service.
In a narrative verdict, Tom Osborne said "the serious nature of his condition was not noticed".
"In this day and age, someone does not die of appendicitis," he added.
'Red herring'
Afterwards, he questioned whether people with severe learning difficulties should be seen in a hospital instead.
Billy Carter, who had a mental age of two, also suffered from epilepsy and incontinence.
He was seen by doctors at the M-Doc service run from Biggleswade Hospital on 22 and 25 December because he had a fever, was vomiting and not eating.
He was not properly able to communicate what was wrong and when doctors felt the boy's stomach he did not wince at all and he would always point to his private parts, the inquest heard.
Tests indicated a urinary tract infection and he was prescribed antibiotics.
His family tried to take him to Bedford Hospital on the 23 and 24 December but he refused to go in.
He died at the Lister Hospital in Stevenage on Boxing Day and a post-mortem examination concluded he died from peritonitis and appendicitis but learning difficulties had also played a part in his death.
M-DOC director Dr Peter Gledhill told the court there was "no explanation for the horrible red herring [of the infection and pain threshold] that threw doctors off the correct diagnosis".