Striking firefighters 'did not attend' to Welwyn Garden City fatal blaze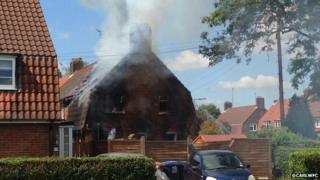 Hertfordshire Fire Service has disputed union claims that striking firefighters responded to a fatal fire during industrial action.
A man in his 40s died after sustaining severe burns in the blaze in Heronswood Road, Welwyn Garden City, on Saturday.
The FBU said a station about 400 yards (365m) away was unmanned but nearby striking firefighters went to help.
Hertfordshire Fire Service said: "No striking firefighters attended despite attempts to mobilise [them]".
A spokesman said it sent three crews from elsewhere when the fire broke out at about 14:00 BST and the response time was 10 minutes.
Deputy chief fire officer John Mills said the response would "most likely would have been faster" if there had not been a strike but it was "unclear" if there would have been a different outcome.
"I can assure any members of the public who are concerned about safety that our contingency arrangements have stood up well throughout this and previous strike actions," he said.
"All our resilience crews are operated by fully trained and competent staff."
'No request'
Del Macleod, chairman of the Hertfordshire branch of the Fire Brigades Union (FBU), said striking firefighters were not at the nearby station at the time.
"No formal request was made to recall firefighters from the strike but striking firefighters nearby were alerted and responded," he said.
Firefighters would only be recalled from a strike if there was a "major incident", he added.
But a fire service spokesman said they had tried to "mobilise striking staff from Welwyn Garden City".
Members of the FBU held a seven-hour strike over a row about pensions.
General Secretary Matt Wrack said the union would "work to uncover all the circumstances".
"[The fire service and government] have given strong assurances that robust alternative contingency arrangements were in place," he said.
The victim was taken to the Royal London Hospital but later died.
Hertfordshire Police said it was investigating the cause with specialist fire investigators but no-one was being sought in connection with the fire "at this stage".