Police hunt Adebayo Ekun over Marcus Hall street brawl death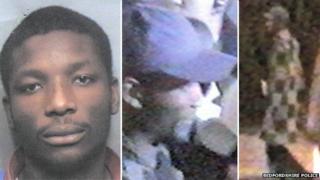 Police have issued a new appeal with a £5,000 reward for the arrest of a man wanted over a murder outside a So Solid Crew gig 13 years ago.
Marcus Hall, 18, was beaten and stabbed to death in Luton on 21 March 2001.
Five men have been jailed for life over the killing, but Bedfordshire Police still want to question Adebayo Ekun, now aged 37.
Four years ago he was thought to have been in Ghana, but he has connections in Luton, London and the West Midlands.
Student Marcus Hall was left dying in the street after being attacked near Luton's Atmosphere nightclub.
CCTV footage
In 2002 the Old Bailey heard Mr Hall travelled to the venue from Peckham with a group known as The Peckham Boys, but they arrived too late to get in.
As it closed and clubbers left, violence erupted on the streets. Within an hour Mr Hall had been stabbed nine times in the back and his skull fractured.
Mr Hall "undoubtedly" had a baseball bat with him that night and other members of his group were carrying weapons, the court heard.
Seven men were jailed for life for murder, but two convictions were later quashed.
Adebayo Ekun remains the last person police wish to question. In the past he has used names including James Dalvin, Arron Hall, Lavell Holder, Gary Edwin Plumber, Adebayo Kekere, Mulatib Kekere Ekun and David Bell.
CCTV footage of the night of the death has also been released.
Det Insp Tim Redfearn said: "The £5,000 is payable on his arrest, we do not have to wait for him to be convicted to pay this reward.
"We have the full support of the Crown Prosecution Service and can proceed to court the moment he is in custody."
Anyone with information is asked to contact police.